Pixel Park
Developer(s)
Thibo1102
Publisher(s)
Fishlip Games
Release Date
November 15th, 2015
Genre
Simulation
Modes
Campaign Mode
Sandbox Mode
Create Your Own Scenario Mode
Platforms
PC
Xbox360
Xbox One
PlayStation 4
Playstation 3
Series
Pixel Park
Predecessor
N/A
Successor
TBD
Pixel Park
is a theme park building simulator created by
Fishlip Games
.
Gameplay
Edit
Coming Soon...
Gentle Rides
Edit
Merry Go Round
Spiral Slide
Bumper Cars
Bouncy Castle
Swinger
Ferris Wheel
Car Ride

Pick-Up Trucks
Race Cars
Vintage Cars
Cars

Haunted House
Maze

Brick Walls
Hedges
Wooden Fences

Observation Tower
Mini Golf
Ghost Train
Go-Karts
Tea Cups
Thrill Rides
Edit
Swinging Ship
Launched Freefall
Magic Carpet
Rounded-Up
Swinging Inverter Ship
Motion Simulator
Top Spin
Enterprise
Rollercoasters
Edit
Wooden Coaster
Kiddy Coaster
Wild Mouse Coaster
Steel Coaster
Runaway Mine Train Coaster
Bobsled Coaster
Vertical Coaster
Inverted Coaster
Reverse Freefall Coaster
LIM Launched Coaster
Heartline Twister Rollercoaster
Water Rides
Edit
Log Flume
River Rapids
Splash Boats
Water Coaster
Dinghy Slide
Boat Hire

Rowing Boats
Canoes
Swan Boats
Water Tricycles
Bumper Boats
Transport Rides
Edit
Steam Train
Monorail
Chairlift
Shops and Stalls
Edit
Ice Cream Stall
Fries Stall
Pizza Stall
Hamburger Stall
Info Kiosk
Souvenir Shop
Popcorn Stall
Drink Stall
Cotton Candy Stall
Lemonade Stall
Balloon Stall
Bathroom
Hot Dog Stall
Coffee Shop
Donut Shop
Cash Machine
First Aid Room
Scenarios
Edit
Expansion Packs
Edit
There are currently 4 packs planned:
Also See
Edit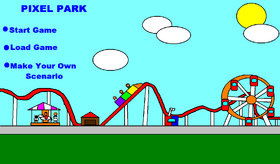 Ad blocker interference detected!
Wikia is a free-to-use site that makes money from advertising. We have a modified experience for viewers using ad blockers

Wikia is not accessible if you've made further modifications. Remove the custom ad blocker rule(s) and the page will load as expected.