Superman
Universe
DC Comics
Debut
Action Comics #1
(April 8, 1938)
"Something you wouldn't know anything about. It's my home. My heart. It gives me strength."
    —Superman
Kal-El, AKA Clark Kent, AKA Superman, is a fictional superhero that appears in DC Comics. He was featured in the twenty-fifth episode of DEATH BATTLE, where he fought against Goku and won. He is a playable character in DEATH BATTLE: The Video Game.
Death Battle Information
Edit
Background
Edit
Alternate Identity: Clark Joseph Kent
Birthname: Kal-El
Age: 39
Height: 6'3"
Weight: 225 lbs.
Married to Lois Lane
Occupation: Pulitizer Prize winning Investigative Reporter
Power Source
Edit
Solar Radiation
Constant Power Absorption
Healing Factor
Yellow Sunlight increases power (2700x-5500x)
Red Sunlight has no effect (2700x)
Blue Sunlight doubles increase (5500x; adds new abilities)
Super Sense
Edit
Super Hearing
X-Ray Vision (with the exception of lead)
Telescopic Vision
Microsopic Vision
Electro Magnetic Spectrum Vision
Theta Vision (can see a person's aura)
Flight
Super Strength
Super Speed
Healing Factor
Super Breath
Arctic Breath
Heat Vision (Maimum Temperature: Unknown; drains solar power quickly)
Infinite Mass Punch
Edit
Acceleration to near light speed creates relativistic mass
Impact equivalent to 10 Octillion Megatons
Uses a lot of energy
Planet busting
Speed force regulates durabilty if necessary, ensuring survival
Genius Intellect
Edit
Super Brain
Perfect Photographic Memory
Technological Genius
Master Tactician
Can read & memorize DNA
Taught all remaining Kryptonian knowledge by Jor-El
Martial Arts
Edit
Pressure Points with Batman
Hand to Hand with Wonder Woman
Boxing with Wildcat
Psychic Barrier with J'onn J'onzz
With Mongol II (worked to uncover full potential)
Torquasm-Rao & Torquasm-Vo (enhances and protects body and mind)
Weaknesses
Edit
Reliant on constant solar radiation
Kryptonite (severely weakens muscles, eliminates stored solar power)
Magic (includes enhanced weapons)
Spends more time protecting others than improving skills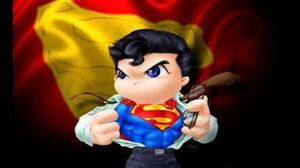 Animations
Edit
Entrance: Flies onto the battlefield.
Post-Round Taunt: Puts hands on hips and chuckles.
Victory: Looks up, then flies off into space.
"This looks like a job for Superman!"
"If you're sure you want to fight me, then all right."
"Just another day in the life of Superman here."
"Goku! Ready for that rematch?" - Against Goku.
"You don't stand a chance." - Against any villain except Lex Luthor or Akuma.
"Batman versus Superman? Who would've thought?" - Against Batman.
"All right, Diana. Let's do this." - Against Wonder Woman.
"You never learn, do you, Lex?" - Against Lex Luthor.
"What is it with me and these Saiyan guys all of the sudden?" - Against Vegeta.
"An equal opponent, you say? Well, bring it on." - Against Chuck Norris or Segata Sanshiro.
"Transcend my humanity? You threw yours away!" - Against Akuma.
"I must go now... Lois will kill me if I'm late."
"Well, what did you expect? I'm Superman."
"Not everyday I get a good fight. Thank you."
"Keep up the good work, pal." - Against Goku.
"Try all you like. Justice will always prevail." - Against any villain except Lex Luthor or Akuma.
"Probably should've brought the Kryptonite batarangs, eh, Bruce?" - Against Batman.
"You really do your mother proud, Diana." - Against Wonder Woman.
"I get it. You REALLY don't like me." - Against Lex Luthor.
"At least Goku knew how to have fun." - Against Vegeta.
"You're good... but you're no Superman." - Against Chuck Norris or Vegeta.
"I'm never going down your path. Not anytime soon, at least." - Against Akuma.
Results Screen
Edit
"Well, Jimmy will certainly enjoy hearing this story in the news."
"Sorry about that. Sometimes I don't know my own strength."
"You're getting way stronger than I remember. Could you imagine if you ever got a god form or something? That'd be ridiculous!" - Against Goku.
"Please remember I trust you with my life, Bruce. And you know what I want you to do with it if I ever lose control." - Against Batman.
"To think you could be using your mind to help make the world a better place. But instead you're focusing it on destroying me." - Against Lex Luthor.
"Strongest woman in the world, huh? I have a cousin that might disagree with that." - Against Chun-Li.
"Nice hammer. And cape. And hair. And... well, nice everything, really." - Against Thor.
"You're strength is even greater than I thought, Adam. Thanks again for the match." - Against He-Man.
"And for the last time, I will not get you a picture of Kara's chest!" - Against Deadpool.
Ad blocker interference detected!
Wikia is a free-to-use site that makes money from advertising. We have a modified experience for viewers using ad blockers

Wikia is not accessible if you've made further modifications. Remove the custom ad blocker rule(s) and the page will load as expected.