Captain America
Universe
Marvel Comics
Debut
Captain America Comics #1
(March 1941)
"Avengers, assemble!"
    —Captain America
Steve Rogers, also known as Captain America, is a fictional superhero that appears in Marvel Comics. He was featured in the thirty-sixth episode of Death Battle, where he fought Batman and lost. He is a playable character in DEATH BATTLE: The Video Game.
Death Battle Information
Edit
Background
Edit
Before transformation

Height: 5'4" / 1.6 m
Weight: 95 lbs / 43.1 kg

After transformation

Height: 6'2" / 1.9 m
Weight: 220 lbs / 99.8 kg

Both parents died early in his life
Won the gold metal in an art contest as a teenager
Was once mutated into "Spider-King"
Secretly a habitual car thief
Abilities
Edit
Adept in all fighting styles
Master tactician
Multi-lingual
Proficient in all weapons, though he typically only uses his shield
Expert acrobat
Capable of chi manipulation
Can resist all forms of mind control
Proficient in driving all kinds of vehicles
Cap's Shield
Edit
2.5 feet in diameter, weighs 12 lbs
An unrepeatable combination of Proto-Adamantium and Vibranium
Its Proto-Adamantium is even stronger than regular adamantium
Absorbs the full blow of any impact
Conducts neither electricity nor heat
Highly aerodynamic
Can only be damaged by tampering with its molecular bonding
Survived being frozen in ice for 70 years
Can run almost 50 mph / 80.5 kph
Caught a torpedo with his bare hands
Threw the Hulk off his feet
Jumps 20-30 feet high
Drops from airplanes at cruising altitude into water without a parachute no problem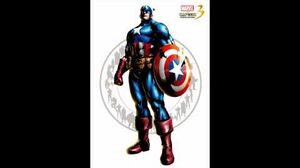 Animations
Edit
Entrance: Already standing there. He catches his shield and readies for battle.
Post-Round Taunt: Cap raises his shield and shouts "For our country!"
Victory: Cap stands proud.
"I'm always ready for a fight."
"I've fought in wars. One-on-one's not gonna be very smooth for you."
"Well then. Let's do this."
"Hope you don't think I'm going easy on you this time, Bats." - Against Batman.
"Avengers... uh... Let's... fight!" - Against any of the Avengers.
"Surrender is your only option." - Against any villain.
"Let's see how good that tech does you, Murphy." - Against Robocop.
"I'm one of Earth's Mightiest Heroes for a reason."
"I hope you'll keep on fighting, soldier."
"Your skill would make you a worthy Avenger."
"May we put our skills alongside each other in the future." - Against Batman.
"Let's continue to fight the good fight!" - Against any of the Avengers.
"Crime never pays. But you certainly will." - Against any villain except Deathstroke.
"You're strong where it counts, soldier." - Against Robocop.
Results Screen
Edit
"The secret to fighting: You do it for what you believe in."
"I promise you, when I raise my shield, the red, white, and blue will always prevail!"
"Don't worry, Bruce. This will be our little secret." - To Batman.
"I know this is probably going to just fuel the old Stark ego train... But you're a great Avenger and friend, Tony." - To Iron Man.
"I'm afraid if you really want to join the Avengers, Peter, you're gonna have to bring it all to the table." - To Spider-Man.
Ad blocker interference detected!
Wikia is a free-to-use site that makes money from advertising. We have a modified experience for viewers using ad blockers

Wikia is not accessible if you've made further modifications. Remove the custom ad blocker rule(s) and the page will load as expected.