Boba Fett
Universe
Star Wars
Debut
Star Wars Episode Episode V: The Empire Strikes Back
(May 17, 1980)
"You can run, but you can't hide. Not from me."
    —Boba Fett
Boba Fett is a character from the Star Wars film series, where he is a minor antagonist.
He was featured in the first episode of DEATH BATTLE and it's remastered version, both times where he fought Samus Aran and lost. He appears as a playable character in DEATH BATTLE: The Video Game.
Death Battle Information
Edit
Background
Edit
Age: 35 (Cannon)/76 (Legends)
Height: 6'0" / 1.83 m
Weight: 172 lbs / 78.2 kg
Rank: Mandalore
Starship: Slave I
Homeworld: Kamino
Clone of Jango Fett
Widower to Sintas Vel
Father to Ailyn Vel
Mandalorian Body Armor
Edit
Made of Mandalorian Iron
Micro energy field
Penetrating radar
Resists fire, poison, acid, & cold
360 degrees field of vision
Infrared sensor
Environmental filter
Can track 30+ targets at once
Retractable drinking straw
EE-3 carbine rifle
Sacros K-11 blaster pistol
Concussion grenade launcher
Lightsabers
Wrist Gauntlets

Flame projector
Fibrecord whip
Wrist laser
Concussion rockets
Stun rockets
Mitronomon Z-6 Jetpack
Edit
Hands-free
Up to one minute of flight
Max speed: 90 mph / 145 kph
Magnetic grappling hook
Anti-vehicle homing rocket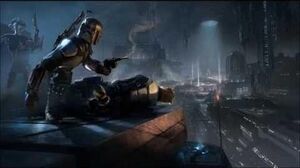 Animations
Edit
Entrance: Boba Fett uses his jetpack to land in the arena.
Post-Round Taunt: Twirls rifle in his fingertips.
Victory: Boba Fett twirls his rifle in his fingertips, points it at the fallen opponent, and then flies off.
"You've made a big mistake challenging me."
"You're gonna find out why I'm the most feared bounty hunter in the galaxy."
"Right, apprehend the enemy. I'm on it."
"Things aren't gonna go your way this time, bitch!" - Against Samus.
"I got you right where I want you, Jedi!" - Against Luke Skywalker.
"Huh. Pilots who I can mount the heads of on my wall." - Against Fox or Bucky.
"I've seen droids tougher than you." - Against any robotic character.
"If I would've known this was a fist fight, I would've brought guns anyway." - Against Ryu.
"Nine-thousand big ones? What a deal!" - Against Ragna.
"I better get paid good money for that."
"You're lucky there wasn't a bounty on your head."
"Don't be sad, pal. You never stood a chance."
"Maybe I should throw you into the Sarlacc." - Against Samus.
"Just another saber to add to my collection." - Against Luke Skywalker.
"You'd look even better as a rug in my pad." - Against Fox or Bucky.
"Just another waste of nuts and bolts." - Against any robotic character.
"You're a street fighter, I'm a one-man army. You do the math." - Against Ryu.
"Thanks for making me the richest bounty hunter in the galaxy." - Against Ragna.
Results Screen
Edit
"There, there, little carbine rifle, it's all over now."
"I live on the legacy of Jango Fett. All my fallen opponents make it much easier."
"Things aren't so easy when you're not always jumping around, huh?" - To Samus.
"Now you're coming with me. Vader wants some father-son quality time with you, if you know what I mean." - To Luke Skywalker.
"I'm impressed. Not a single scratch on you, even after all I put you through." - To Robocop.
"I had to quit my Jedi hunt to take down a flying horse? This job really grinds me sometimes." - To Rainbow Dash.
"I'm guessing the term 'sly as a fox' never applied to you. Or maybe I'm just that good." - To Fox.
"And for the last time, you can NOT try on my jetpack!" - To Deadpool.
"I've noticed you also have a thing for very destructive weaponry. Looks like we'll get along just fine." - To Terminator.
Ad blocker interference detected!
Wikia is a free-to-use site that makes money from advertising. We have a modified experience for viewers using ad blockers

Wikia is not accessible if you've made further modifications. Remove the custom ad blocker rule(s) and the page will load as expected.